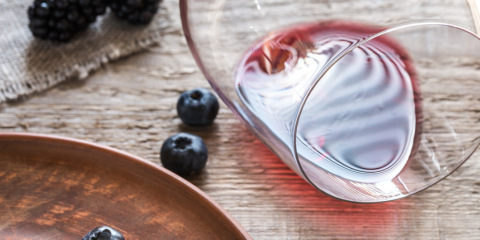 Syrah, also known as Shiraz, is a red grape varietal that has captured the hearts of wine enthusiasts around the world. Renowned for its bold flavours, robust structure, and age-worthy characteristics, Syrah has become an iconic wine that continues to fascinate drinkers. Let's delve into the allure of Syrah, exploring its origins, flavour profile, regional expressions, and its ability to age gracefully.
Syrah and Shiraz are essentially the same grape variety, but the terms are used to differentiate between the regional expressions and climate-driven styles of the wine. Winemakers working in cooler-climate growing regions, both in the Old World and New World, tend to label their wines as Syrah. Famous examples come from the northern Rhône Valley in France, such as Hermitage and Côte-Rôtie. In the New World, regions like Sonoma Coast in California, Yarra Valley in Australia, and parts of Chile produce wines labelled as Syrah, emulating the leaner, acid-driven, and savoury styles of the classic French wines.
Syrah's rise to prominence attracted winemakers from other regions to visit the Rhône Valley and learn about the winemaking techniques. One prime example will be Grange "Hermitage" by Max Schubert who working at Penfolds then.
There are interesting myths associated with the emergence of Syrah. One story involves a Roman Emperor planting the grape in France in 280 A.D., while another involves a winemaker from Iran bringing the vines to France around 600 B.C., where he settled in Marseilles. Regardless of its origin, Syrah has been in France for a long time, gaining fame and becoming sought-after.
Syrah's taste profile is characterized by bold and intense flavours. Expect dark fruit notes like blackberry, black cherry, and plum, accompanied by hints of black pepper, tobacco, and spices. Shiraz balances these robust flavours with well-integrated tannins and acidity, contributing to its overall appeal.
Regional expressions of Syrah vary due to climate, soil, and winemaking techniques. In the Northern Rhône Valley, Syrah produces elegant wines with aromas of violets, black fruits, and pronounced earthiness. In Australia's Barossa Valley and McLaren Vale, Syrah displays a more fruit-forward profile, with bold flavours, high alcohol content, and a generous mouthfeel. Other regions, such as California, South Africa, and Argentina, also offer unique styles of Syrah, allowing wine enthusiasts to explore diverse interpretations of this captivating grape.
Syrah is renowned for its aging potential. Wines made from this grape have the structure and balance required for long-term cellaring. With high tannin levels and acidity, Syrah wines can develop complexity and evolve over time. Aging allows Shiraz wines to undergo a transformation, revealing secondary and tertiary flavours, softened tannins, and an overall integration of its elements. While some Shiraz wines are enjoyable in their youth, the true beauty of this varietal is experienced when patience is exercised, allowing the wines to mature gracefully in the cellar.
When it comes to food pairing, Syrah's massive full-bodied taste pairs well with bold dishes. It complements claypot, stews, wok-fried dishes, and, of course, roast meats.
As Syrah continues to captivate wine enthusiasts with its bold flavours, robust structure, and aging potential, whether you're exploring the classic expressions from the Rhône Valley or discovering the New World interpretations from Australia or other regions, Shiraz offers a diverse and compelling wine experience. Its ability to evolve in the bottle over time adds another layer of fascination, making it a favourite among collectors and wine lovers who appreciate the complexity that age can bring. Raise a glass of Syrah and let its allure transport you to a world of bold flavours and vinous splendour.