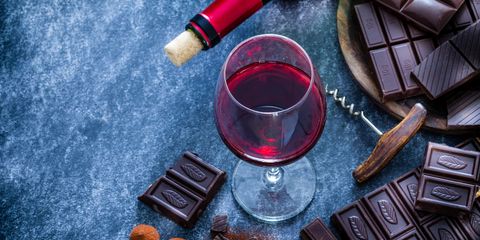 Chocolate and Wine as an aphrodisiac
Let's face it! When the season of love comes about, there is no denying that chocolate and wine is a winner. Sitting down after a nice candlelight dinner and the mood for pleasure arises, nothing else can go wrong. Romance forms, meetings get going and deals get signed. That's because they are both an aphrodisiac. Dr Lauri Wright a nutritionist from the Academy of Nutrition and Dietetics and associate professor at the University of North Florida, claims that foods like wine, chocolate and avocados increase blood flow. If you want to know more about aphrodisiacs, www.salon.com shares with you all that you need to know.
Let's Reflect
Do we ever remember what Mid-Autumn Festival was all about?
As the stories were told, a brave young man fell in love with a young and gorgeous woman only to have been separated from her lover. As time goes by, it becomes a festival for the harvest. We celebrate with our family and friends while feasting and eating mooncakes as dessert.
Now, while that is said, if you enter Chocolate and wine in the google search, there are tons of articles that come out.
Combining the Chocolate and Wine
However, for this Mid-Autumn Festival, let us soak in the feeling a little bit better. We are almost at pre-pandemic periods when everything was about the same and the feeling of getting back together has never been better.
Wine and chocolate create chemistry like no other. As we mentioned before, there are no better ways to gather people together and have a feast. Dinners create a whole orchestra of feelings and sounds.
Elevating our Senses
Think about the music that plays, the chatter around the house, and the glasses clinking as we laugh among friends and family. What about the aroma of the lovely bakes or that oven-roasted chicken that has just finished cooking as the sauce drips over its delicate brownish skin? Let's also talk about the beautiful décor, the candles on the table, the presentation of the food served on delicious plates
So I will leave you with some chocolate and wine quotes
I live on a hybrid mode- that's chocolate and wine
There are a few things to live for, Chocolate, wine and sisters. They are all lovely.
Wine and chocolate brings the greatest adventures- because no good story ever started with a salad
I am very certain that you will have more quotes that you would like to have but you get the picture.
Get your chocolate mooncakes and red wine this year.
There are many reasons why we give mooncakes and in today's world, we look for the best-looking boxes to impress. We are blessed to work with the best to give you a value that can never be replaced. This is filled with the best wine as well as the 2 delicious scrumptious chocolate mooncakes that goes along to suit this year from our shop.